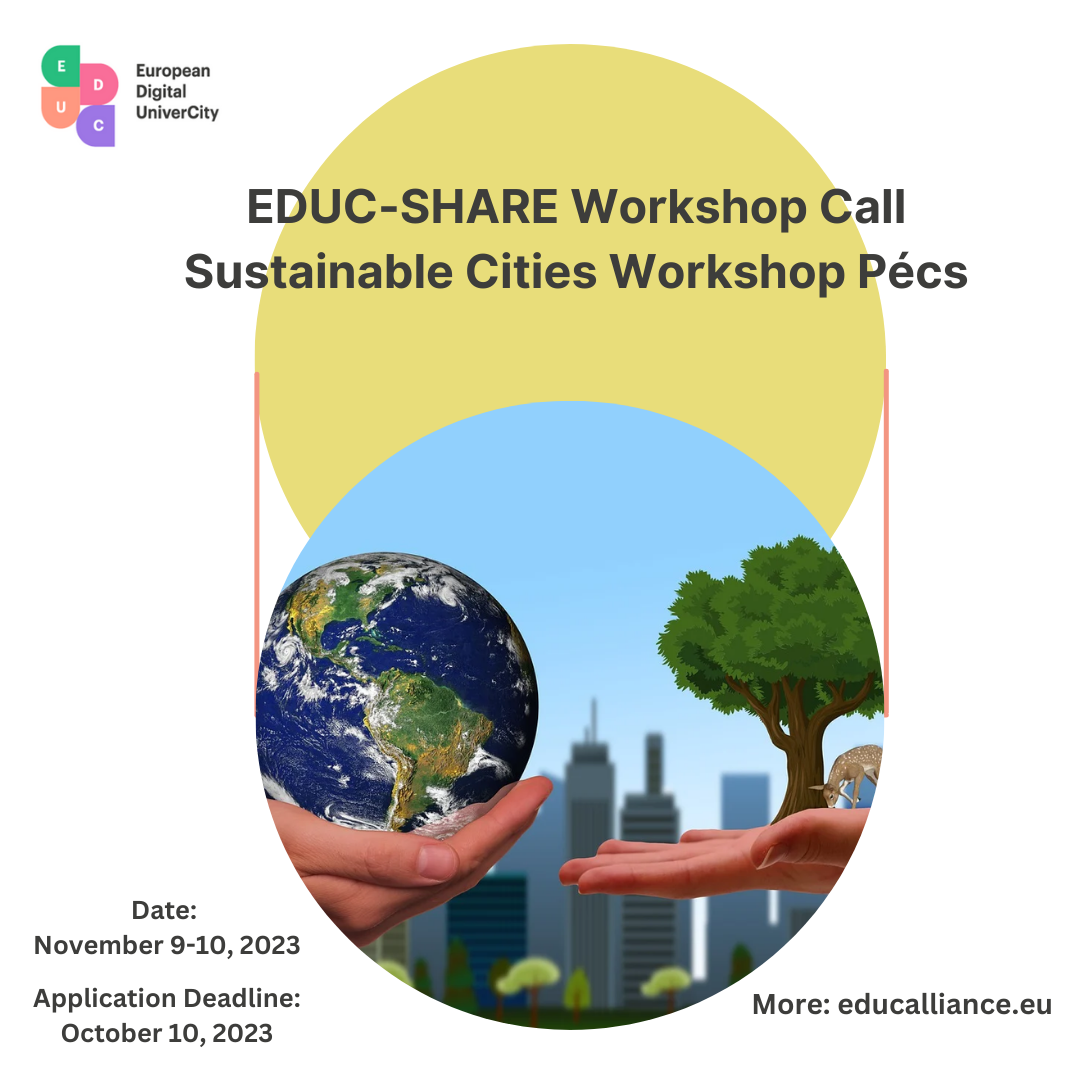 28/09/2023
Sustainable Cities Workshop Pécs | November 2023
Join us for a comprehensive exploration of sustainable urban planning and the evolution of sustainable cities at the Sustainable Cities Workshop in Pécs, Hungary, in November 2023.
Date: 9-10 (possibly 11) November 2023
Host: University of Pécs, Pécs, Hungary
Event Highlights
1. Holistic Overview and Training: This workshop offers a holistic overview and training on the intricate facets of sustainable urban planning and its vital role in fostering sustainable cities. The topics will cover the subgoals of the United Nations Sustainable Development Goals (UN SDG) 11 Sustainable Cities and Communities. We expect researchers, Ph.D. students, and teaching staff to a research topic/lecture related to the subgoals of UN SDG 11:
a. Sustainable housing and architecture
b. Sustainable transport systems
c. Protecting cultural and natural heritage
d. Air quality and waste management of cities
e. Sustainable regional and local development planning
2. UN Sustainable Development Goals (SDGs) Simulation: During the first segment of the event, attendees will engage in an engaging negotiation simulation game centered around the UN Sustainable Development Goals. Participants will gain practical insights into the complexities of aligning urban development with global sustainability objectives.
3. Knowledge Sharing: In the afternoon session, participants can present their research findings and expertise in dedicated lecture sessions. This collaborative exchange of ideas will facilitate a deeper understanding of cutting-edge sustainable urban practices and innovations.
4. Integration with Sustainable Cities Mini-Festival: We are thrilled to announce that our workshop coincides with the Sustainable Cities mini-festival, hosted by the Alliance Française de Pécs, one of our esteemed local partners affiliated with the European Digital UniverCity Alliance (EDUC). Workshop participants are encouraged to immerse themselves in this vibrant festival atmosphere, further enriching their cultural experience.
Don't Miss Out: Immerse yourself in sustainable urban planning and cities at the Sustainable Cities Workshop in Pécs. Join us for a day of knowledge sharing, practical insights, and the opportunity to be part of a broader celebration of sustainability.
We look forward to your participation in this enriching event.
Preliminary program
9 November: Arrival and Welcome Dinner
- Participants arrive in Pécs and are welcomed to the Sustainable Cities Workshop with a delightful dinner, providing an opportunity to network and connect with fellow attendees.
10 November: Sustainable Cities Workshop and Conference Dinner
- All-Day Workshop: Engage in a comprehensive exploration of sustainable urban planning and sustainable cities. Dive into insightful discussions, interactive activities, and the UN Sustainable Development Goals (SDGs) simulation game.
- Conference Dinner: Continue the discussions in a relaxed, convivial atmosphere, fostering deeper connections with your peers.
10-11 November: Sustainable Cities Mini-Festival
- Immerse yourself in the vibrant atmosphere of the Sustainable Cities Mini-Festival, hosted by our esteemed partner, the Alliance Française de Pécs. This festival celebrates culture, creativity, and sustainability, providing a unique cultural experience for our workshop participants.
Other and Contacts
· Registration: Secure your spot at the workshop by registering HERE.
· Deadline to register: 10th October 2023
· Main Contact: For any inquiries or assistance, please contact Péter Árvai, Deputy Director of the International Centre at PTE, via email at arvai.peter@pte.hu
· Limited Availability: Please note that the number of available places is limited, and participants will be selected on a first-come, first-served basis.
· Erasmus+ Teaching Mobility: If you intend to use Erasmus+ teaching mobility funds for your travel, we can arrange an extra day for your classes.
Participant Benefits:
· 9th November: Dinner
· 10th November: Lunch and Dinner
· Accommodation: Provided for the nights of 9th and 10th November
Participant Responsibilities:
· Travel Costs: Participants are responsible for covering their own travel expenses.
The project "EDUC-SHARE" received funding from the European Union's Horizon Europe research and innovation programme under grant agreement No. 101017526.