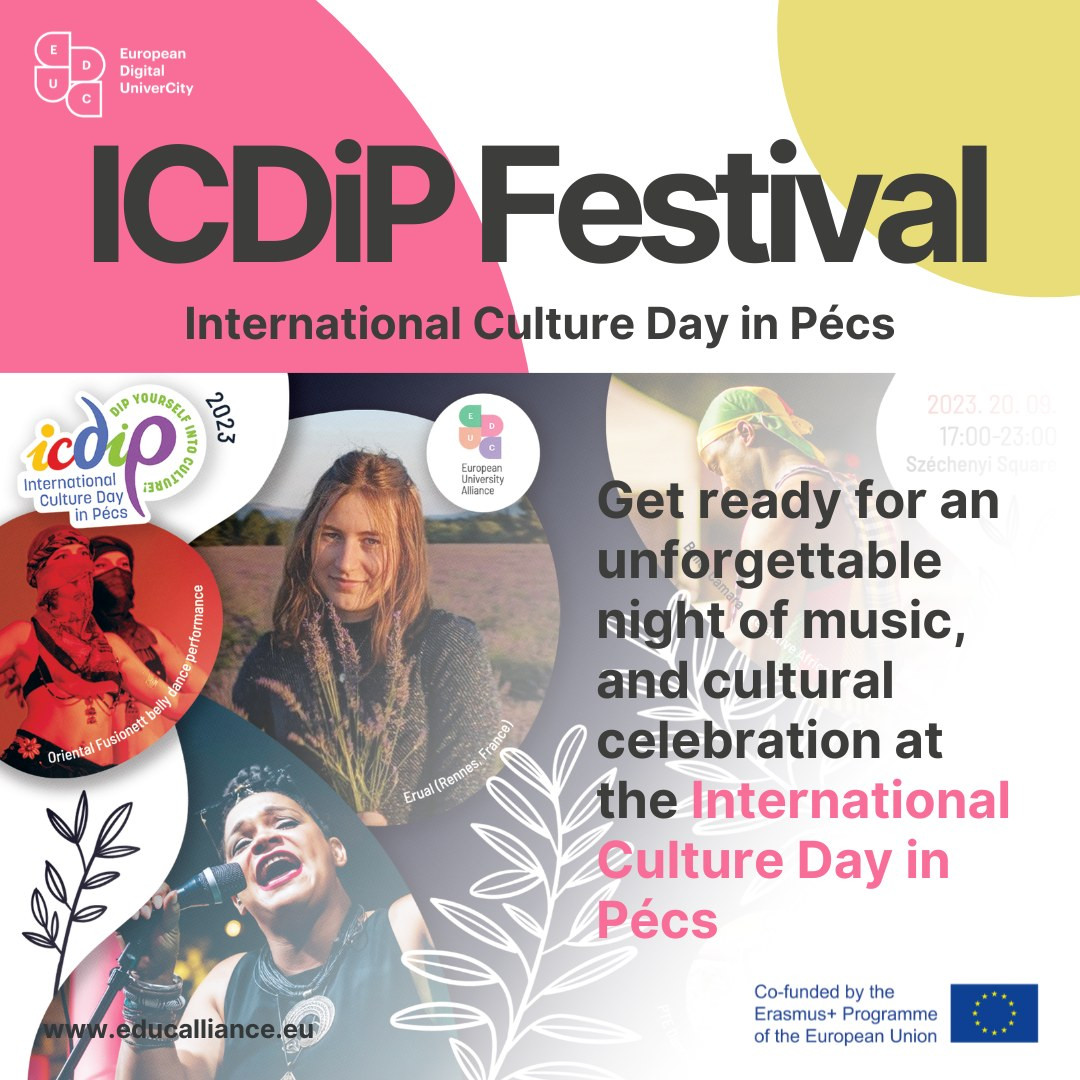 18/09/2023
EDUC participation at the International Culture Day in Pécs
Get ready for an unforgettable night of music, dance, and cultural celebration at the International Culture Day in Pécs (ICDiP)!
Save the Date: September 20th, 2023
Time: 17:00 - 23:00
ICDiP is back for its second edition; this time, it's bigger and better than ever! Join us as we immerse ourselves in the rich tapestry of cultures from around the world. Here's a glimpse of what's in store for you:
17:00 - PTE Dancing University Performance
17:40 - Guitar Concert by Oliver Zrínyi, accompanied by Janó Attila
18:10 - Interactive West African Drum and Dance Show by Ballet Camara
19:20 - Egyptian Belly Dance Extravaganza by Oriental Fusionett
20:00 - Welcome Speeches by the Rector and Mayor
20:10 - 21:00 - ERUAL Live Performance!
Meet ERUAL:
Erual, the 22-year-old singer-songwriter from Brittany, is making her Hungarian debut in Pécs. Her music is a delightful blend of pop, electro-pop, indie, world, and French chanson influences. Immerse yourself in her sunny, dreamlike world where narrative and subject merge seamlessly. Thanks to our esteemed EDUC partner, the University of Rennes, Erual is gracing us with her premiere performance in Hungary. Check out her interview here.
https://bit.ly/Erual
Watch Erual's Stunning Performances:
Woman
https://youtu.be/jeZop_vcEEU
Hardfaced Queen
https://youtu.be/F_-H3M1MyA8
Finish Line
https://youtu.be/IPd16OvYkLo
And that's not all! The night continues with a mesmerizing performance by Sena Dagadu from 21:30 to 23:00. Get ready to groove to her soulful tunes. Watch her in action here.
https://youtu.be/9HYJp0jFyMw
Don't miss out on this incredible night of music, dance, and cultural exchange! Let's celebrate diversity and unity at ICDiP with EDUC.